Off 234Playlist Regular Content: Valentine is here and Nigeria's biggest network is here to celebrate the season with your loved ones with new offers. You either pick free data , Airtime, shopping vouchers for your loved ones.
You can only enjoy it on MyMTN app. Many MTN users have gifted themselves free 2GB data on the app. I'll sharply show you how to get yours quickly.
Advertisement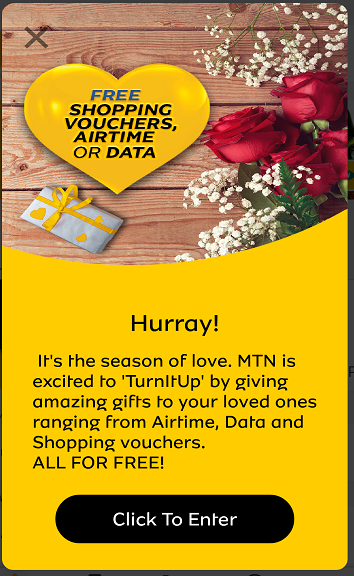 Photo credit: myMTNapp
This is how to Get MTN Valentine Day Free Offer and mind you it is what i have used and get free data.
This is a limited offer and MTN has the right to stop it after the Valentine's Day celebration. As at the time of this publication, I was asked to try again in an hour time.
But from 12am to 8pm today Feb 14th, the offer continues, you'll be able to gift your loved ones again with myMTN app free Valentine's day gift offer.
1. All you have to do is get two MTN lines
2.Then download MyMTN App Here or PlayStore
3. Sign in with one of the MTN number
4. You will get a pop up message about the Valentine's offer like the one below
5. Click on the pop up message then input the second MTN number into the box and tap on Proceed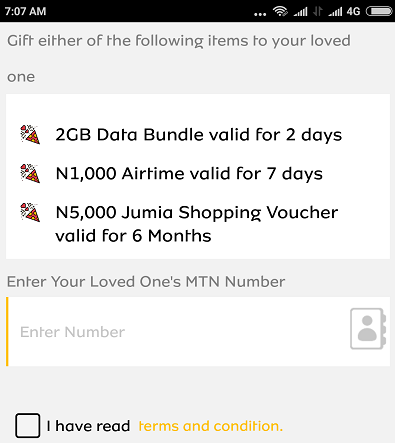 Photo credit: myMTNapp
6. A confirmation message will popup, kindly press Proceed.
MTN Valentine day offer
7. Your second MTN number will be credited with 2GB data or 1k worth of airtime based on your luck.
Let us know in the comment if you get your own free 2GB Data or N1000 free Airtime.
Advertisement
Latest posts by theWise234
(see all)